[an error occurred while processing this directive]

Our Categories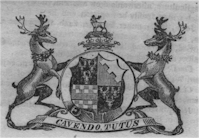 WILLIAM CAVENDISH, DUKE OF
DEVONSHIRE.
1694.
Descended from William, second son to sir William Cavendish, gentleman usher to cardinal Wolsey, by Elizabeth, the rich countess of Shrewsbury This William obtained a peerage by the means of lady Arabella Stuart, his niece, in 1605; and, in 1618, was created earl of Devonshire. William, his great grandson, being a patriot, a friend of William lord Russell, and an alive promoter of the revolution, was created duke of Devonshire, 1964, He died 1707, aet 67. William, his grandson, third duke, died 1755.
His grace is fifth duke; was born 1748, and succeeded his father in 1764. He married lady Georgina, daughter of the late earl Spencer, a lady of great genius and beauty, but unfortunately too much involved in the fashionable follies of the age; by which her high talents and warm heart were not a little clouded ; and the duke's splendid estates suffered too much injury. She died in March, 1806. The decided part which the duke tools, in opposition to the administration of Mr. Pitt, is well known; but his own habits are retired; and he is said to have assisted his party rather by his fortune, than his own personal exertions.
Female Descent.] Hardwick, Kighley, Bruce, Cecil, Butler of Ormond, Russell, Hoskins, Boyle.
Chief Seats.] Chatsworth, in Derbyshire, a magnificent mansion, originally built by the rich countess of Shrewsbury ; and Hardwicke-hall, in the fame county, a curious Elizabethan house, in both which Mary queen of Scots formerly was confined; and Chiswick, in Middlesex, derived from the earls of Burlington.
Heir.] William George, marquis of Hartington, born 1970.
Younger Branch.] Lord George Cavendish, who, by marriage with lady Elizabeth Compton, possesses the estates of Spencer earl of Wilmington, in Sussex, &c.
GEORGE SPENCER, DUKE OF
MARLBOROUGH.
1702
By male descent earl of Sunderland, and baton Spencer of Wormleighton, to which peerage his ancestor was elevated for his wealth by James I.-Charles, third earl of Sunderland, a character well known in political history, in the reign of queen Anne, and George I. who died 1722 by his marriage with lady Anne daughter and coheir of John Churchill, the great duke of Marlborough, brought that dukedom finally to his son Charles, fourth earl, who succeeded to those last honors in 1733, and died 1758, leaving the present duke his son and heir, &c.
His grace is fifth earl of Sunderland, and third duke of Marlborough, born 1739, married Caroline, daughter of John, fourth duke of Bedford, and has two sons and four daughters. His grace has indulged in a retired life, and has dedicated much of his time to literature, especially the Greek, in which he was early initiated by his tutor and friend, the celebrated Jacob Bryant.
Female Descent.] Knightley, Ketson, Catelin, Willoughby Wriothesley, Sidney, Digby, Churchill, Trevor.
Chief Seats.] Blenheim, in Oxfordshire, the gift of national gratitude to his great ancestor, a palace of uncommon splendor, and, in point of ornamented grounds, perhaps the most beautiful in Europe--Blandsorth-lodge, in the same county, once called Cornbury, and the seat of the virtuous lord Clarendon.
Heir.) George, marquis of Blandford, born 1766, called to the upper house, as lord Spencer, of Wormleighton, 1806, married lady Susan, daughter of the late earl of Galloway, by whom he has several children.
Younger Branch.] Earl Spencer, &c.