[an error occurred while processing this directive]

Our Categories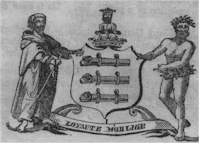 BROWNLOW BERTIE, DUKE OF
ANCASTER.
1715
The origin of the greatness of the Berries, was by the marriage of Richard Bertie, with Katherine, widow of Charles Brandon, duke of Suffolk; baroness Willoughby, of Erefby, in her own right. He died 1582, aet. 64. Peregrine, his son, succeeded to the barony of Willoughby, on his mother's death ; and died 1601, having married Mary, filter and heir of the whole blood to Edward Vere, seventeenth earl of Oxford; by which the lord high chamberlainship felt on his son Robert, whom Charles I, in 1626, created earl of Lyndfey, in the county of Lincoln. Lord Clarendon gives an account of his heroic death from the wounds he received at the battle of Edgehill, 1642. Robert his great grandson, fourth earl, was created duke of Ancaster by George I. in 1715, and died 1723. Robert, his great grandson fourth duke died 1779, aet. 23, and was succeeded by his uncle, lord Brownlow.
His grace succeeded his nephew 1779, was born 1729, and married Mary Anne, daughter of the late major PeterLayard, by whom he had an only child, the late viscounteis Milsingtown, who died 1797.
Female Descent.] Willoughby, Vere, Montagu, Cockayne, Wharton, Wynn, Brownlow of Belton.
Chief Seat.] Grimsthorpe, Lincolnshire, part of the old Willoughby estate.
Heir Presumptive.] To the earldom, general Albemarle Bertie, member of parliament far Stamford--descended, I presume, from a younger son of the second earl.