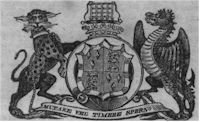 HENRY CHARLES SOMERSET, DUKE
OF BEAUFORT
1682
This noble house is descended illegitimately from the house of Beaufort, dukes of Somerset, who sprung from John of Gaunt, duke of Lancaster, (son of Edward III.) by his last wife, Katherine Swinford. Henry Beaufort, third duke of Somerset, who was beheaded for his adherence to Henry V1. in 1463, being taken prisoner in the battle of Hexham, left a natural son, Charles, by Joan Hill, who assumed the name of Somerset; and was patronized and promoted by Henry VII. by whom he was made a knight of the Garter, in the eighteenth of that reign. Soon after he married a great heiress, Elizabeth, sole daughter and heir of William Herbert, earl of Huntingdon, lord Herbert of Ragland, Chepstow, and Gower. In 1514, he was created earl of Worcester; and died 1526. Henry, fifth earl, was created by Charles I. marquis of Century of Inventions," &c. he died 1667, Henry, his successor, was created duke of Beaufort, in 1682: he refused to take the oaths at the revolution, and retiring, died 1699, aet. 70
His present grace is sixth duke, and succeeded his father, in Oct. 1803 . He was born in 1766, and married 1791, lady Charlotte L. Gower, daughter of the late marquis of Stafford, by whom he has several children. His grace has several brothers in the army.
Female Descent.] Herbert, of Ragland; Browne, North, Hastings, Russel, Dormer, Caret, Noel, Berkeley of Stoke; Boscaen.
Chief Seat.] Badminton, Gloucestershire, not far from Bath ; where, and in Monmouthshire, his estates lie.
Heir Apparent.] Henry, marquis of Worcester, born 1792.
GEORGE WILLIAM FREDERICK OSBORN,
DUKE OF LEEDS
1694
The elevation of this family was effected by sir Thomas Osborne,* bart. a statesman of Tome celebrity, who held the office of lord high treasurer, in the reign of Charles II. In 26 Charles II he was created earl of Danby; in 1679, he was impeached; but afterwards concurring in the revolution, was, in 1689, created marquis of Carmarthen, and in 1694, duke of Leeds. He died 1712 . æt. 81.
His great grandson Thomas, fourth duke, died 1789 æt. 76.
His grace succeeded his father, Francis Godolphin, the fifth duke, in 1799. He married 1797, lady Charlotte, daughter of George, Marquis Townshend. He was born 1775, and enjoyed the barony of Congers, during the life of his father, who sat as baron Osborne, vitâ patris. He has not hitherto taken any active part in politics. He is the representative of the Godolphtns and Darcys.
Female Descent.] Walmsley, Bertie, Hyde of North Myms; Harley, Godolphin, Darcy.
Chief Seats.] Kiveton-Park, Yorkshire, where his principal estates lie; and North-Mims, Herts.
Heir.] Francis Godolphin Darcy, marquis of Carmarthen, born 1798.
---
* Great grandson of sir Edwar Osborne, lord mayor of London, 25 Eliz.