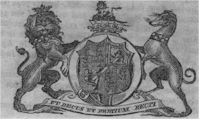 AUGUSTUS HENRY FITZROY, DUKE
OF GRAFTON
1675
Is great grandson of another sun of Charles 11. by Barbara Villiers, the celebrated duchess of Cleveland. This sun, Henry Fitzroy, was born 1663; in 1672, was created earl of Euston; and in t 1675, duke of Grafton. In 1672, when nine years old, he was married to lady Isabella, the sole daughter and heir of Henry Bennet, earl of Arlington, the well known statesman. He was killed at the head of his troops, at the siege of Cork, in 1690, aet. 28. His son Charles, second duke, died 1757. He was succeeded by his grandson, the present duke, son of lord Augusts, a captain in the navy, who died at Jamaica, May 28, 1741.
His grace was born 1735, and in 1765, was appointed one of the secretaries of state, and the following year first lord of the treasury, which he held till Jan. 28, 1770. It was during his administration, that the celebrated Letters of Junius were written. He has since led a retired life, for the most part, and has generally acted in opposition to government ; while some part of his time has been dedicated to literature, and he is supposed to have taken an active part in fume theological controversies. He has also been fond of the sports of the chafe, and the turf; and hill retains a house at Newmarket. By his first duchess, the daughter of lord Ravensworth, from whom he was divorced, he had two sons, lord Euston, and lord Charles; and one, daughter; and by his second duchess, Elizabeth, daughter of sir Richard Wrottesley, bart. he has a numerous family.
Female Descent.] Bennet, Somerset, Cosby.
Chief Seats.] Euston-Hall, in Suffolk, near Thetford,
(derived from the Bennets), and Wakefield-Lodge, in Wittlebury-Forest co, Northampton, part of a royal grant, whence the title of Grafton is derived.
Heir Apparent.] George Henry, earl of Euston, born 1760, married to Charlotte Maria, daughter of the second earl of Waldegrave, by whom he has a large family. He is member of parliament for the University of Cambridge.