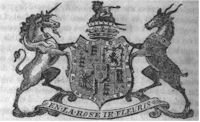 CHARLES LENOX, DUKE OF
RICHMOND
1675
The several families of ducal rank, founded by Charles II from his issue, by his numerous mistresses, are well known. The first of these is the house of Lenox, by a French lady, Louisa de Querouelle, whom the monarch created duchess of Portsmouth. Her son Charles, born 1672 was created duke of Richmond, 1675, and died 1723.
His late grace was grandson of this first duke, and was born 1735. He entered early into the army; and became a field-marshal, colonel of the house-guards, blue; lord lieutenant of Sussex, colonel of its militia, and knight of the Garter. He married the youngest daughter and co-heirss of the last earl of Ailesbury, (of the Bruce family), who died 1796, without issue. His grace was a man of a strong and most industrious mind; was indesatigable in his pursuits; long took an active part in politics; and was a vehement partisan for a reform in parliament, during the latter part of lord North's administration. He presided
over the ordnance from Dec. 1783, to Nov. 1795, He died Dec. 29, 1806, and was succeeded by his nephew, Charles, son of lord George Lenox.
Charles, now duke of Richmond, born 17641 is a lieutenant-general in the army, and colonel of the 35th regiment of foot. He married, 1789 lady Charlotte, daughter of Alexander, duke of Gordon, by whom he has a numerous family, both male and female. In April, 1807, he was appointed lord-lieutenant of Ireland, in the room of the duke of Bedford.
Female Descent.] Belasyse, Cadogan, Ker of Ancram.
Chief Seat.] Goodwood, in Sussex which his grace's estates chiefly lie.
Heir Apparent.] Charles, earl of March, his grace's eldest son, born 1791.